"ART is a reflection of who we are, our passions and our inspirations"    – Marney-Rose
As you browse through my website you'll see that my inspiration comes from the beauty in nature and the celebrations of life.
I invite you to see the world through my eyes.
POWDER ROOM COMMISSIONED PROJECT
SPLASH 18 – THE BEST OF WATERCOLOUR
in Bookstores and Amazon NOW
SPLASH 18 The Best of Watercolour is the most inspirational series of books for artlovers and  artists from all over the world.  It is a hardcover, coffee table book published by FW Media and is due out June 2017.  Vancouver artist, Marney-Rose Edge's painting of yellow roses entitled CELEBRATION, is  included in this issue.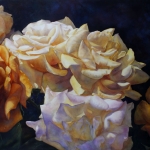 MARCH WORKSHOP
Paint Scenes from Monet's Garden
3 full days – March 24 – 26 2018
Please visit Current Workshops